During his early childhood in Oregon, Larry Canarelli and his family lived in riverside tents and small shacks, often with no running water or bathroom facilities. At 5 years old, Larry's father abandoned the family and he was voluntarily placed into an orphanage, only to later be reunited with his mother and four sisters as the family moved to Central California where he would spend the rest of his childhood.
Enterprising even at a young age and bright in school, Larry was accepted to UCLA and pledged Sigma Nu in 1965. He served as a House Manager, Rush Chairman, Pledge Trainer and, perhaps most impressively, helped lead the house to 5 consecutive All-University Intramural Championships (1965-1969).
Following grad school, Larry worked with President Nixon's commission for the redevelopment of the inner cities of the U.S. before securing a marketing position with Metropolitan Homes in Southern California. He quickly rose up the ladder at Metropolitan and, by the late 1970s he was the Executive Vice President in charge of architectural design and marketing. In 1981, he became the President of the Las Vegas division and he and his family became full-time Las Vegas residents.
In 1984, Larry launched his own company, American West Homes, where his passion for helping provide families with a good quality and affordable home made him successful as a homebuilder and industry innovator. Under Larry's leadership American West Homes has built more than 18,000 single family homes in Las Vegas, and, in 2014, Larry was named one of the "10 Legends of National Housing" by the National Association of Homebuilders.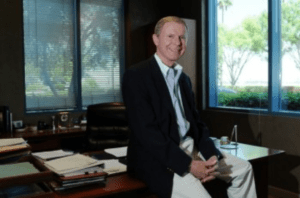 Larry and his wife, Heidi, have been fixtures in the Las Vegas community since the late 1970s and have always believed strongly in giving back to the community. In addition to raising their 4 children who have produced 11 grandchildren, they are large supporters of The Smith Center for Performing Arts, Opportunity Village, Assistance League of Las Vegas, Boys and Girls Club of Las Vegas, Junior League, UNLV Foundation, and the Boy Scouts of America. They have happily coached youth soccer and baseball teams and have donated significantly to various schools throughout the Las Vegas Valley, providing funds for computer labs and band uniforms, building athletic fields, providing scholarships, and much, much more. In recognition of their longtime dedication to public education, the Clark County School District named the Lawrence and Heidi Canarelli Middle School, located in Coronado Ranch, in their honor.
While he has found many successes in life it is the bonds he formed at Epsilon Pi and the lessons he learned at 601 Gayley that resonate strongest. From learning the meaning behind "to walk in the way of honor" to the pride of living at the best positioned and most magnificently designed property on fraternity row, Larry's years at Sigma Nu, like for so many of us, strengthened his best attributes and made his future accomplishments so much sweeter.
As a lead donor for the 2018 UCLA Sigma Nu Capital Campaign, the House Renovation is an undertaking about which Larry feels strongly. "My life has revolved around home building. I wanted to do it when I was young, and as I've gotten older, I've never lost my enthusiasm for continuing to do what I love. My donation to remodeling the house is born out of my love for Sigma Nu, I strongly feel that to recruit those that we would hope to follow us in making the "walk of honor" we need the best physical plant that we can practically put together. I am honored to be able to make this donation."