Epsilon Pi Centennial Campaign
In 2030, Epsilon Pi of Sigma Nu will celebrate its 100th anniversary at UCLA. To commemorate this longevity we have launched a fundraising campaign to grow our scholarship endowment. The scholarship program intends to fund broad tuition support to the young men of UCLA Sigma Nu in perpetuity.
Alumni contributors to the campaign have pledged a minimum donation of $10,000 to the Sigma Nu Alumni Scholarship Fund, payable through 2030. To kickstart the campaign, the Carol L. Merlone Educational Foundation has made a transitional commitment of $2 million to support current period scholarship funding of at least $200,000 per academic year through 2030. With further alumni support, the fund is expected to grow to the point where annual tuition support will benefit every single active undergraduate member of Epsilon Pi in good standing and qualifying members in leadership will have their tuition paid in full.
Alumni participants, as of January 1, 2023, are listed HERE.
Even if you are unable to join the brothers who have made a minimum $10,000 donation, you can still support the Sigma Nu Alumni Scholarship Fund. Here are the ways you can make a donation:
Make a donation via PayPal online at www.uclasigmanu.com/donate
Make a donation via your Donor Advised Fund
Make a donation via securities (Schwab Account Number: 3148-7709)
Those over 72 can make a qualified charitable contribution (QCD) from an IRA
Send a check payable to "Sigma Nu Alumni Scholarship Fund" to:
Peter J. Merlone C/O Merlone Geier Partners
425 California Street, 10th Floor
San Francisco, CA 94104
Since 2016, our fraternity has seen tremendous donor support that has provided for large scale chapter house renovation projects and exponential growth in our scholarship fund, which now totals nearly $2 million (as of January 1, 2022). We thank the following brothers for their support.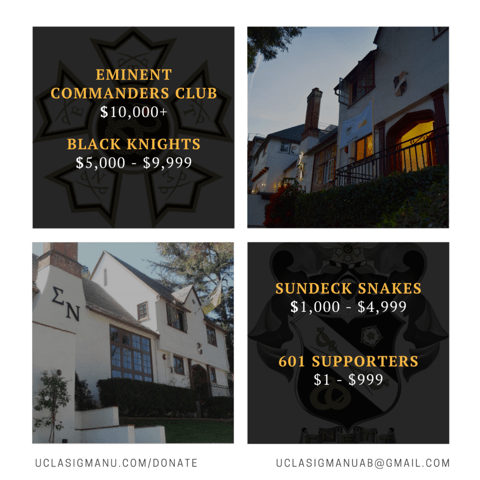 Adams III, Charles (EP 963)
Ahern, Kevin (EP 952)
Bocci, Rick (EP 848)
Bridge, Gary (EP 669)
Brodersen, John (EP 998)
Buckley, George (EP 763)
Canarelli, Larry (EP 721)
Coleman, Brian (EP 1531)
Colligan, Perry (EP 959)
Cooper, Mike (EP 781)
DeFendis, Matt (EP 1038)
Farwell, Anthony (EP 956)
Gilbert-Lurie, Cliff (EP 925)
Godfrey, Adam (EP 1094)
Graham, Pat (EP 788)
Graves, Scott (EP 1369)
Griffin, John (EP 1203)
Harris, Bill (EP 987)
Heisel, Kurt (EP 1032)
Isackson, Rob (EP 1041)
Jordan, Dan (EP 910)
Layton, Steven (EP 1020)
Liljestrom, Brent (EP 890)
Little, Don (EP 901)
McPherson, Scott (EP 1186)
Meidel, Greg (EP 880)
Menzia, Michael (EP 1182)
Merlone, Peter (EP 972)
Meyer, Paul (EP 889)
Newby, Jon (EP 1106)
Obbage, David (EP 1021)
Ollen, John (EP 795)
Ostwald, Mitchell (EP 965)
Parker, Russ (EP 939)
Pipes, Keith (EP 928)
Post, Daniel (EP 975)
Riehl, Donald (EP 332)
Runkel, Rick (EP 929)
Ryder, Ned (EP 446)
Schmidt, Dave (EP 738)
Schweitzer, Brad (EP 1002)
Turner, Rusty (EP 837)
Wilson, Robert (EP 369)
Anonymous
Amendola, Nick (EP 1645)
Browman, Taylor (EP 944)
Curtis, Cameron (EP 1678)
Derdivanis, Derek (EP 873)
Dickinson, Doug (EP 1048)
Easton, Greg (EP 1153)
Hartshorn, Terry (EP 632)
Helfrich, James (EP 1006)
MacDougall, Alexander (EP 1004)
Ormand, Ron (EP 981)
Shepherd, Jay (EP 1018)
Strader Jr., Tim (EP 1243)
Wilcox, Michael (EP 584)
Wodiske, Richard (EP 955)
Wylie, Russ (EP 516)
Young, Bill (EP 791)
Zirbel, Brian (EP 1628)
Bonin, Eddie (EP 1633)
Brady, Fred (EP 800)
Broms, Gregory (EP 1154)
Burns, Mark (EP 1088)
Butler, Darrell (EP 746)
Carey, Bruce (EP 934)
Cheung, Tim (EP 1653)
Collins, Dominic (EP 2068)
Costa, Mark (EP 950)
Deming, Steve (EP 568)
Derdivanis, Kent (EP 905)
Dixon, Bryce (EP 1568)
Eagle, Billy (EP 1659)
Hagee, Edmon (EP 711)
Hart, David (EP 424)
Hartnack, Richard (EP 674)
Heenan, Marc (EP 1364)
Herlihy, Thomas (EP 943)
Higby, Lawrence (EP 665)
Hoops, Alan (EP 715)
Isackson, Bruce (EP 984)
Jacobsen, Jim (EP 1386)
Kelly, Rob (EP 1631)
Klunchoo, Derrick (EP 1660)
Kobata, Mark (EP 798)
Krommenhoek, Mark (EP 1158)
Kushins, Ed (EP 709)
Lem, Derek (EP 1847)
Lineberger, Brad (EP 1515)
Medley, Tony (EP 565)
Miller, Jim (EP 1087)
Moore, Bill (EP 992)
Nese, Jonathan (EP 1596)
Palmo, Luke (EP 1060)
Pender, Mark (EP 913)
Redfearn, Wayne (EP 739)
Roberson, Alan (EP 773)
Rockwood, Payton (EP 2082)
Rovzar, Bob (EP 1064)
Rugg, Donald (EP 644)
Schloemer, Stephen (EP 1013)
Schutte, Jerry (EP 717)
Slater, Michael (EP 991)
Stoever, Thomas (EP 443)
Stovitz, Ken (EP 982)
Thomas, Dan (EP 726)
Valdez, Michael (EP 1970)
Vilas, Clark (EP 461)
Vogel III, Bernard (EP 906)
Widders, Monte (EP 649)
Wise, Lloyd (EP 346)
Alexander, Kevin (EP 1280)
Almaguer, Steve (EP 1569)
Auerbach, David (EP 1579)
Bensworth, Kurt (EP 1131)
Biddle, Richard (EP 625)
Bourlier, Chris (EP 1599)
Boyd, Travis (EP 1432)
Brooks, Neil (EP 463)
Cady, Jim (EP 790)
Camarella, Sean (EP 1664)
Carey, Rod (EP 877)
Clarke, Joe (EP 1598)
Collins, Fulty (EP 1241)
Cumiskey, Sean (EP 1254)
Curtin, David (EP 1590)
Dahlgren, James (EP 626)
Down, Eric (EP 960)
Draine, Bob (EP 244)
Drummy, Steve (EP 542)
Edwards, Tom (EP 690)
Exner, Michael (EP 1616)
Ferguson, Bob (EP 681)
Filippini, Ryan (EP 1682)
Frautnick, James (EP 654)
Gayner, Scott (EP 885)
Graham, Martin (EP 603)
Graham, Robert (EP 1191)
Grant, Timothy (EP 916)
Handly, Cortlin (EP 1746)
Harding, Thomas (EP 820)
Herbert, Clarke (EP 640)
Howe, Mark (EP 1683)
Jones, Pat (EP 1057)
Jones, Ryan (EP 1667)
Kaewert, Doug (EP 869)
Kappos, Stephen (EP 1051)
Kerns, Tim (EP 1536)
Kern, Kyle (EP 1657)
Knapp, Brent (EP 1629)
Larocca, Chris (EP 1565)
Logan, Richard (EP 697)
Loubet, Pierre (EP 1024)
Madriaga, Elmer (EP 1574)
Mason, Rowan (EP 1583)
McLaughlin III, Richard (EP 948)
Miller, Jeffrey (EP 621)
Miller, Kyle (EP 1649)
Mitchell, Rob (EP 1272)
Pappas, George (EP 1015)
Piini, John (EP 866)
Post, Pete (EP 506)
Price II, James (EP 758)
Read, Scott (EP 1206)
Reiser, Matt (EP 1969)
Renke, Dave (EP 1558)
Riccardi, Vic (EP 548)
Rosa, Michael (EP 1535)
Sandoval, Juan (EP 1869)
Shafron, Edward (EP 1916)
Springbett, Craig (EP 1141)
Stough, Russell (EP 1586)
Tabor, Tom (EP 803)
Tai, Kenny (EP 1640)
Tinker, Brian (EP 1421)
Visser, Dennis (EP 1173)
Wachtell, Roger (EP 999)
Walsh, Brad (EP 1519)
Warner, John (EP 549)
Williams, Dan (EP 1427)
Wolf, Stephen (EP 622)
Woodward, Blake (EP 842)
Zacuto, Jake (EP 1577)
Zrake, Jim (EP 749)