On November 7, 1930 the Sigma Nu fraternity officially opened its Epsilon Pi chapter at UCLA. Led by their first Eminent Commander, Everett T. Plumer, one of the first major goals of the chapter was to secure housing on a newly developing fraternity row. In the late 1930s, architect Kurt Radon-Meyer designed a Norman-Style building for the fraternity. The house was completed in 1940 and Sigma Nu was finally able to move into the building they still call home over seventy-five years later. While there have been many fraternities at UCLA, none have produced the depth in quality, character, and impact found in the over 2,100 initiated members of Sigma Nu. Built on the pillars of Love, Honor, and Truth, the Epsilon Pi chapter of Sigma Nu has garnered a reputation for developing leaders in athletics, on the campus, in the community, and in business.
While the chapter has traditionally had a large percentage of its members involved in athletics, there is particular pride for Sigma Nu Brothers such as Jerry Norman and Rick Neuheisel who excelled in UCLA's marquee varsity programs. Brother Norman served as basketball co-captain and earned first-team all-conference honors in 1952 before joining Coach Wooden's staff in 1957, where, in addition to being the lead recruiter for Bruin legends Walt Hazzard, Gail Goodrich, Lou Alcindor, and Sidney Wicks among others, he was the brains behind the zone presses that were essential to UCLA's first two NCAA Championships. In the 1984 Rose Bowl, Brother Rick Neuheisel quarterbacked the UCLA football team to a 45-9 victory over Illinois and was named the game's MVP. Two decades later, he would return to Westwood to serve as Bruins' head coach from 2008-2011. In addition to those who added to UCLA's athletic glory, the chapter has seen its alumni go onto careers in every major professional sports organization.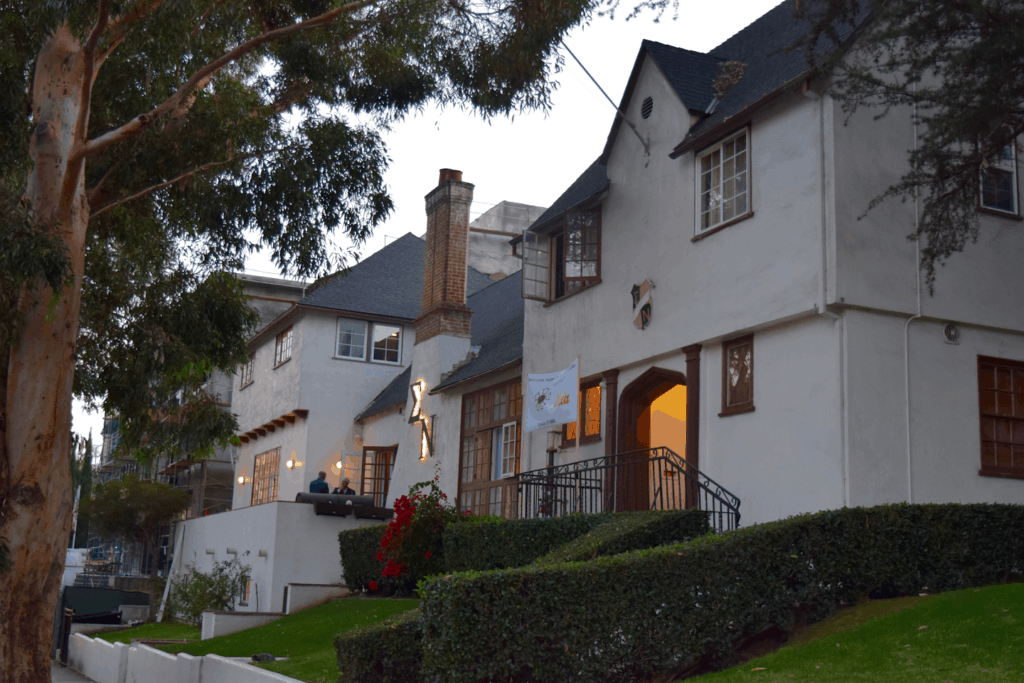 The chapter has always had members active in the school's student government (USAC), the fraternity government (IFC), the school newspaper (Daily Bruin), and other prestigious school positions. One of the most impactful Brothers on UCLA's overall success was Byron Atkinson who became a Sigma Nu in 1938 and, after graduation, distinguished himself by becoming Dean of Students. During his 19-year tenure he gained the respect of students, faculty and parents for his direct, even-handed approach to discipline. He helped restore poorly supported traditions such as homecoming and Spring Sing, but also waded into more controversial areas during the troubled 1960s and '70s.
Due in part to its national military heritage, the fraternity continues to place significant importance on the concept of personal honor. This tradition can be seen in the long history of ROTC Brothers who have served our country as officers including Al Sparlis, Jerry Coffee, and Charles Wolf. Prior to being selected by the Green Bay Packers in the 1946 NFL Draft, Al Sparlis' football career was interrupted by WWII where he flew 70 missions over the "Hump" from India to China, crashing twice and earning seven campaign ribbons. After graduating from UCLA in 1957 Jerry Coffee joined the Navy and was awarded the Distinguished Flying Cross for flying low level reconnaissance missions over Cuba, taking the photos ultimately used by the United States U.N. ambassador to prove the existence of Soviet missiles there. In 1966, while flying a combat mission over North Vietnam Coffee's RA5-C reconnaissance jet was downed by enemy fire and for the next seven years he was held as a POW. After his repatriation in 1973, Coffee returned to operational duties, where he earned the Silver Star, two awards of the Legion of Merit, the Distinguished Flying Cross, two Bronze Stars, the Air Medal, two Purple Hearts, and the Vietnam Service Medal with 13 stars. A 1984 Epsilon Pi initiate, Wolf served as the Commodore of Naval Special Warfare Group FOUR in Virginia, and as commanding officer of SEAL Team TEN before working in the Pentagon, assigned to the Joint Staff as Deputy Director of the Pakistan Afghanistan Coordination Cell.
The fraternity's social tradition is equally impressive with its annual White Rose Formal being its signature event of the year. Traditionally held at local clubs and hotels, such as the Bel Air Country Club, in the late 1980's the chapter started the tradition of leaving Los Angeles for the event. Since then, ballrooms from San Francisco, Las Vegas, Palm Springs, and Coronado Island have hosted tuxedo-wearing Brothers and their dates for classy meals and unforgettable dance floor moves.
As history has proven, brotherhood at the Epsilon Pi chapter of Sigma Nu can be a life changing experience that helps to shape young men into well-balanced leaders who achieve intellectually, professionally, and socially. It is a place where many people have met their lifelong friends and business networks, and where members of North America's first "Honor" fraternity continue that tradition today.