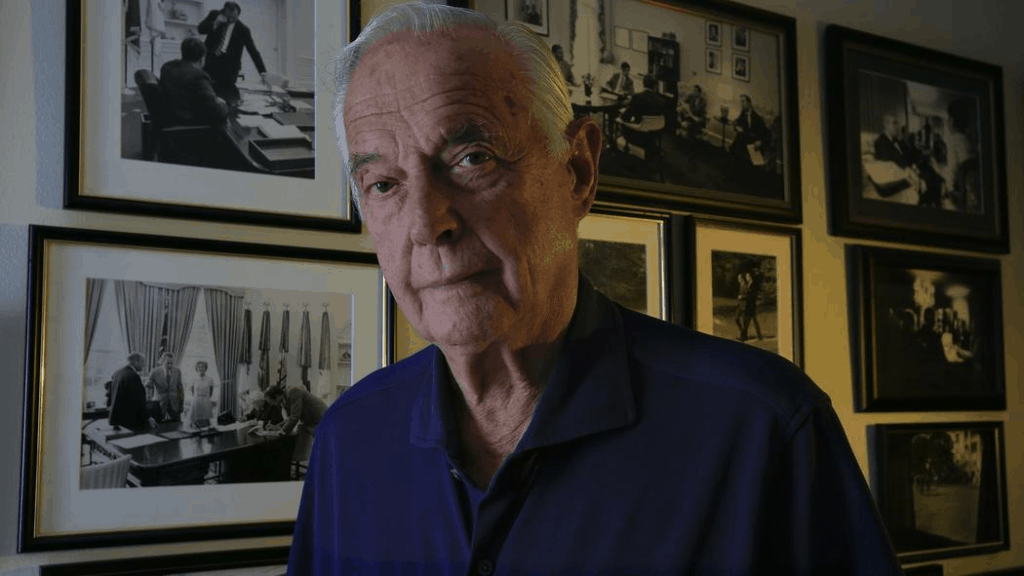 UCLA Sigma Nu Alexander Butterfield, who as Deputy White House Chief of Staff to President Richard Nixon, was the first to reveal the existence of the President's secret taping system.
Presidential Impeachment. The hot button issue of the year actually has roots stretching to 601 Gayley. When the prospect gripped the nation in the 1970s, President Richard Nixon's White House staff contained two alumni of UCLA Sigma Nu.
This month we'll highlight the role Alexander Butterfield (EP 276), who served as Bob Haldeman's deputy for 50 months, played in the proceedings that led to the President's 1974 resignation.
Initiated as a member of UCLA's Sigma Nu Fraternity in 1946, Butterfield's then-girlfriend was close friends with Haldeman's. Through this connection, Haldeman, a UCLA Beta fraternity man, and Butterfield shared many drinks and pleasantries at the Kappa Kappa Gamma sorority house. After UCLA they went their separate ways as Haldeman became a campaign manager for Nixon and Butterfield joined the Air Force where he learned how to fly in 1949. This would provide the foundation for his military career to follow.
During the Vietnam War, Butterfield commanded a squadron of low and medium-level combat tactical air reconnaissance aircraft. He flew 98 combat missions, and was awarded the Distinguished Flying Cross. In 1965 and 1966, Butterfield served as the Military Assistant to the Special Assistant to the Secretary of Defense, where he gained extensive experience working at the WhiteHouse during President Lyndon Johnson's administration.
When Nixon was elected in 1968, Butterfield was a 42-year-old colonel in the Air Force. He was full of ambition yet stuck in a comfortable, low-profile job as the senior U.S. military officer in Australia. He was on track to become a general, but to reach his goal of becoming the top uniformed officer in the Air Force, he felt he needed to get back to Vietnam. Australia was great, but if you are coming up for promotion to Brigadier General, you need to be where the action is, "close to the smoke," as he called it.
In December 1968, Butterfield reached out to Haldeman, who had already been appointed as Nixon's White House Chief of Staff. He believed that after a short stint on the White House staff he could get an early release to command a fighter wing back in the combat arena.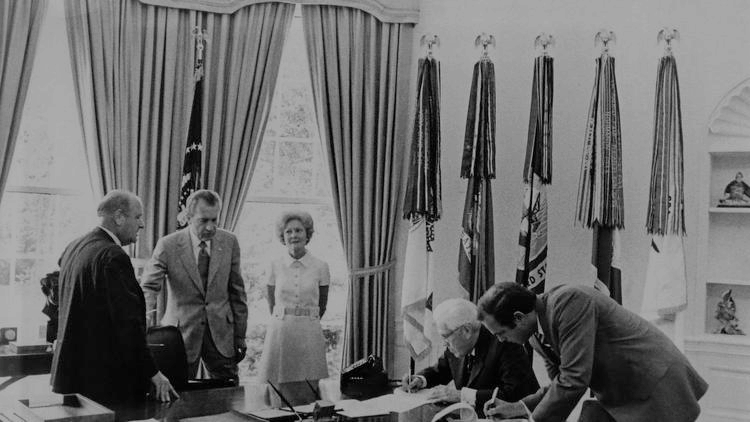 Alexander Butterfield, far right, in the Oval Office witnessing President Nixon's "Estate Plan" in 1972.
In his role as Haldeman's deputy assistant, Butterfield arranged for the Secret Service to install hidden microphones in the Oval Office. Five were embedded in Nixon's desk while others were tucked into lamps on the fireplace mantel. According to Butterfield the existence of this taping system was known only to himself, Nixon, Haldeman, fellow UCLA Sigma Nu Larry Higby (EP 665), and the three or four Secret Service technical staffers who installed it.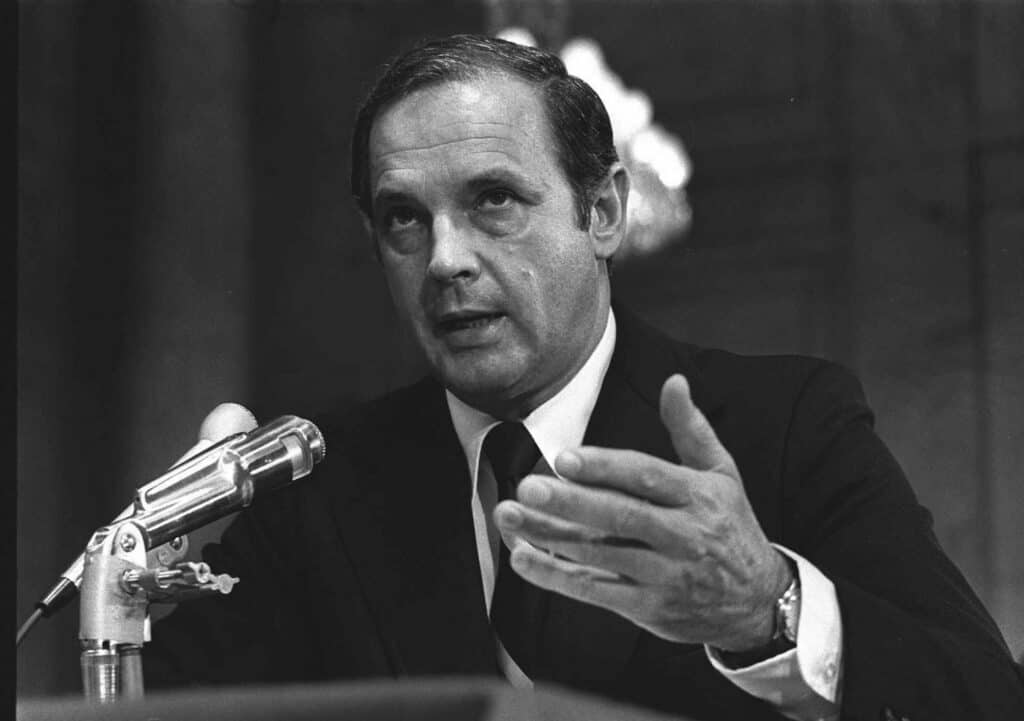 Alexander Butterfield testifies before the Senate Watergate Committee in 1973.
The system remained secret for the next 29 months until July 16, 1973 when during the public Senate Watergate hearings, Tennessee Senator Fred Thompson asked, "Are you aware of listening devices in the White House?"

Butterfield responded, "I was aware. Yes, sir."

This was one of the heaviest bombshells to drop during the Watergate hearings, and perhaps in American history. Although Butterfield had acknowledged the existence of audio taping in the Oval Office three days earlier in a private hearing, this was the first time this information was presented to the American public. 

On these very microphones, Butterfield was recorded confirming to Nixon that a White House spy had been placed in the Secret Service detail assigned to protect Senator Edward Kennedy, who was campaigning on behalf of Nixon's reelection opponent, Senator George McGovern. It was a revelation that would force President Nixon's resignation.

Here is a 2015 conversation between our fraternity brother and the famed author that aired on University of California Television: 
Butterfield's time in the Nixon 

White

 

House

 became the subject of Bob Woodward's 2015 book "The Last of the President's Men" in which Butterfield provided forty-six hours of interviews to Woodward, uncovering new dimensions of Nixon's secrets, obsessions and deceptions.