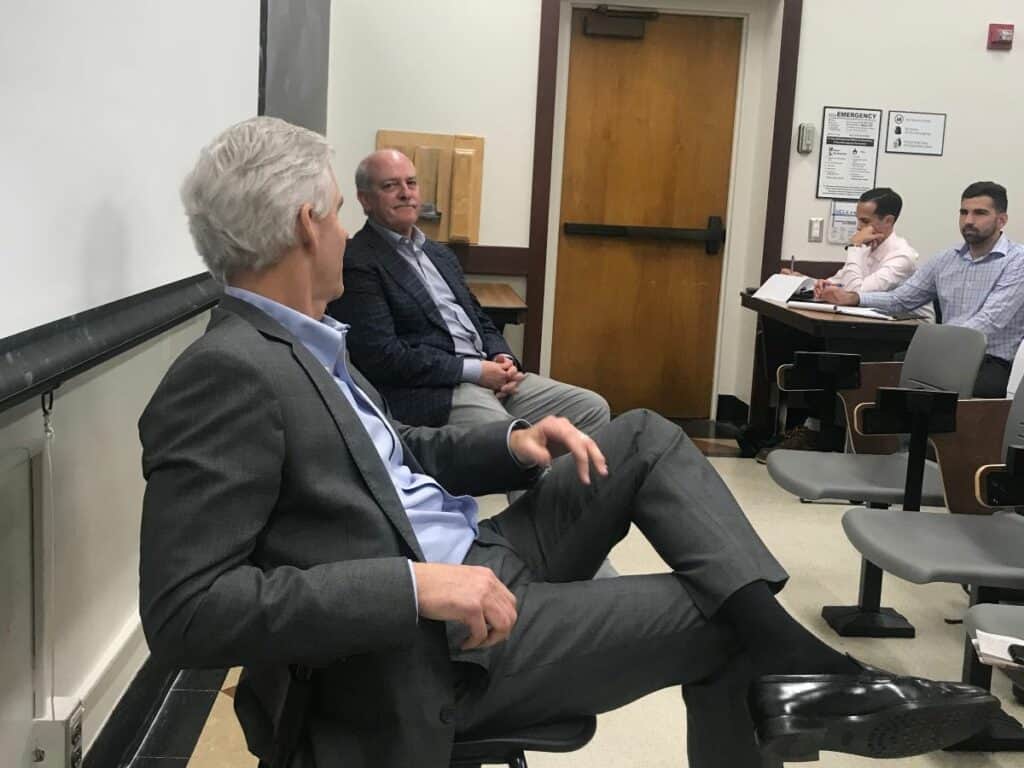 Alumni Peter Merlone and Steve Layton participate in an on-campus discussion where snakes make up a significant portion of the club's membership. 
Each year members of Sigma Nu at UCLA occupy important positions in various organizations and campus clubs. Currently the chapter is heavily represented in one of the most selective clubs on campus – Bruin Asset Management (BAM). BAM aims to link academic learning in the classroom with real-world finance practice through a structured training program and an interactive portfolio management simulation. The club accepts roughly 4% of applicants and many of its members go on to take investment banking jobs at bulge bracket banks like Credit Suisse or consulting jobs at top firms like Bain. Newly elected Epsilon Pi Eminent Commander, Dominic Collins, is the former BAM Director of Finance while Liam Safar (EP 2133) now holds that position which handles the club's budgeting and spending duties. Alex Simon (EP 2101 and current chapter Scholarship Chair) is the BAM Director of Recruitment where he directs quarterly recruitment cycles to whittle 8-10 new recruits from a pool of 200 UCLA student applications. Joseph Needle (EP 2114) manages the club's mock portfolio, Jack McHugh (EP 2098 and current chapter Treasurer) updates club members on internship opportunities, workshops and conferences.
Additionally, the newly elected Epsilon Pi Lieutenant Commander, Brock Bauer, is a member of the Bruin Real Estate Association (BREA), the only undergraduate organization at UCLA that is devoted to closely connecting students to the real estate industry. During the fall quarter a group of Sigma Nu Alumni were invited to speak at a BREA meeting and were blown away with the caliber of student associated with the club. Brothers Peter Merlone (EP 972), Steve Layton (EP 1020), Jay Shepherd (EP 1018) and John Ollen (EP 795) all participated in the panel discussion and walked the club through a mock investor presentation, complete with simulated firm strategy and example vision for the future of real estate development.