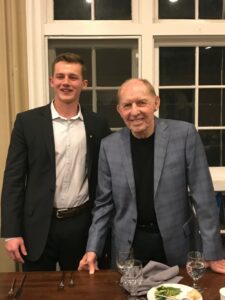 On Friday, November 16th the first of what will be an annual ceremony, dubbed "Sigma Nu Honors", was held at the UCLA Sigma Nu chapter house. The event's intention is to recognize the best of our Fraternity, from those that have come before to those that experience life at 601 Gayley today.
Last spring the Alumni Board awarded scholarships to 6 outstanding Sigma Nu's and, at "Sigma Nu Honors", 12 more brothers joined their ranks to split nearly $40,000 in direct tuition payments to the university. The program's scale and the size of the grants are unprecedented at UCLA and the country's entire Greek system. Further details can be found on our website, but a special thank you goes to our passionate alumni donors and to Peter Merlone (EP 972) for chairing the scholarship fund committee. The program's incredible success thus far speaks to the powerful bond that is forged at Sigma Nu which uniquely motivates our alumni to innovate on our tradition of excellence.
The event's largest award, the Gerald L. Coffee Scholarship, recognizes an upperclassman who demonstrates high moral character and allegiance to the tenets of Sigma Nu, has been an active leader in the fraternity's Executive Committee, and is well respected within the greater UCLA community. The finalists for this $10,000 scholarship award were Gabe Von Ruden, Dominic Collins and Pete Slaats. After opening remarks, Alumni Board President Dave Schmidt announced that Pete Slaats would win the scholarship. In addition to the tuition grant payment, the winner will have his name etched into a plaque commemorating all future winners of this honor. The plaque, which will live in the chapter room, will be unveiled in 2019.
Following the announcement of the award the packed room of alumni, guests and active chapter brothers fell silent as 1957 UCLA graduate and Sigma Nu brother Gerald Coffee (EP 448) stood to share his passion for our Fraternity and the values it impresses on each member who joins its ranks. His powerful testimony will not be forgotten and his legacy as one of our country's most courageous and impactful Navy Captains sets the standard by which all future Sigma Nu's can aspire.